Take yourself to the hungry, and give them to eat, the needy supplied with everything you need, then my light break through your darkness.                  Isaiah 58, 10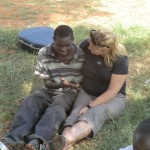 Most of our children lived for many years in the streets of Kampala or in a very dark poor slum. That means an every day life with violence, crime and the fight to survive. To be able to live on the streets and to feel warm during the cold nights, they sniff fuel. Everybody hates them, the police, the communities and many times their own relatives have given up on them. But Jesus never gives up, so we decided to become their friends, we ate from the same plate their food, we sat with them in the dust and shared about the Love of Christ with them.
Many came to our Saturday Good Samaritan Church Program, deep down in one of the worsest slum areas of Kampala. They felt loved and accepted.  We preached to them, prayed together, washed their wounds, shaved the hairs and gave them food. Out of this program we took one by one in our homes and stayed with them together, like in a family. It became their home and is still today the home of many children and youth.
We only left our comfort zone of Germany, but how much more left Jesus. He left the presense of the father, to come to us on Earth to share and demonstrate the Love of our heavenly Father, so we can decide and take him as lord and Savior. He gave up the glory of heaven, was humiliated and still did miracles, healed the sick, raised the dead and preached the love of the Father. He died, but death could not hold him. Through Jesus we are reconciled to the Father in heaven forever. The bible says in Rom 10,10 For it is with your heart that you believe and are justified, and it is with your mouth that you confess and are saved.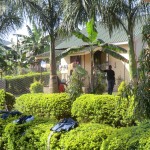 With God all things are possible: After many years, we could finally move April 2009 on our own land and live rent-free. The Staff Team lives with the children together as in a family. Every morning we read in the Word of God, we thank and worship Jesus, pray, and learn more about this wonderful loving heavenly father. They experience the love of the Father and recognize how each one  is special and unique and loved by God. Our daily life in the holidays starts early morning, some are going into the farm for digging, some are cooking porridge, some are cleaning the rooms and some are helping already in driving, in the office and practical things like shopping, bringing kids to school etc.  In the weekly family evening we learn to forgive each other, cleansing our hearts and to speak out our struggles, so we can pray for each other. No more lies, no more secrets. Order, hygiene, behavior must change as well as gifts and callings are recognized and promoted, because we want to disciple the children to become faithful lovers and followers of Jesus Christ.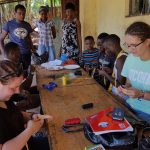 The Children in our home are all well doing in school, others started or finsihed already with vocational training schools in hotel management, auto mechanics, welding, hairdressing, sewing, etc. All children are firmly rooted in a Ugandan community and a local church and have found friends.
Next chosen Generation: 
We love them so dearly, every child is so special to us, so we will not give up to do all, so they can move into a home and being able to go to school as well as to see Gods hand moving in their lives.                   Thank you for all support!